Exhibition: Erratic, SFMOMA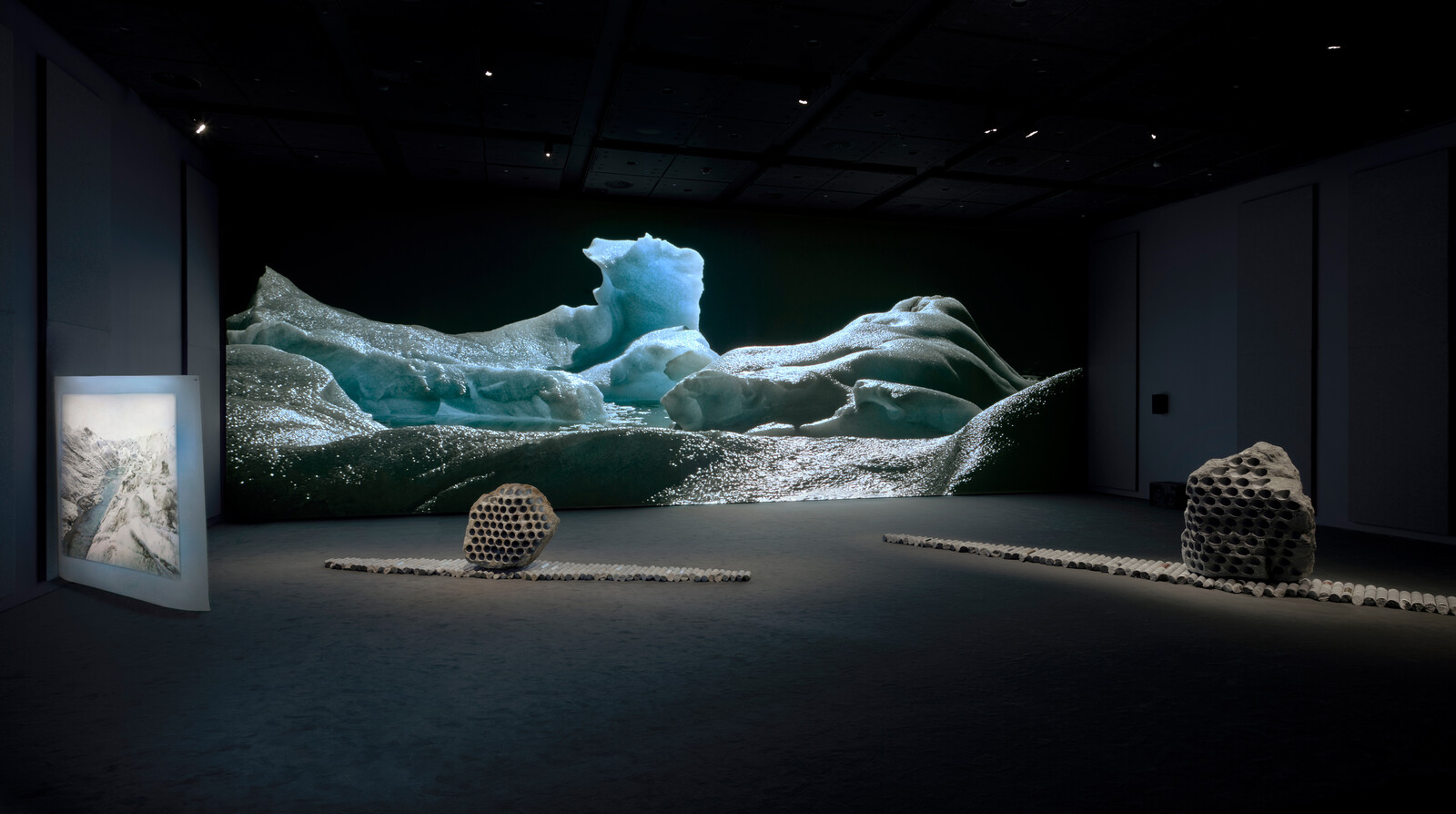 For centuries, the otherworldly environment of the polar regions has provoked an imaginary of wonders, nurtured through testimony and myth. More recently, melting glaciers, the very embodiment of instability, have become symbols of the climate crisis. Julian Charrière has traveled to the Arctic and Antarctica for over a decade to experience these endangered environments firsthand and conduct fieldwork. His artistic practice embraces the scale and physicality of these glacial landscapes as well as the emotions they evoke, sensations that cannot be captured through scientific data. The exhibition begins with Charrière atop a thirty-thousand-year-old iceberg, attempting to melt it with a blowtorch (The Blue Fossil Entropic Stories III). This dramatic yet futile act serves as an allegory of the repercussions of human interventions in geological time and sets the stage for erratic movements in a territory of uncertainty.
The haunting sounds of crackling ice and flowing water transport us into the dynamic landscapes of Towards No Earthly Pole. Filmed at night with a spotlight, the ice terrain appears and disappears, disorienting us in space and time and challenging our perception of reality. Grounding us amidst this changing topography are two sculptures from the series Not All Who Wander Are Lost. These glacial boulders are called erratics, and each rests on a bed of drilled rock cores that points to the movement of matter over time. Some of the cores include metals, alluding to the extraction of natural resources.
This immersive glacial journey ends with a poetic gesture of reconciliation. In the video installation Pure Waste, Charrière returns diamonds made from extracted carbon dioxide molecules to a glacier mill that channels melting waters. Julian Charrière: Erratic thus stages the precariousness of our future, reminding us of the possibility of a mindful and sensible interconnection with these otherworldly environments, once seen as a frontier to be conquered.
Text by curator Rudolf Frieling. All works by Julian Charrière. Installation views: Erratic, SFMOMA, San Francisco, USA, 2022 by Katherine du Thiel